Yes We Are Covid Safe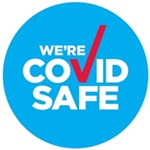 Bucks Cruise Sydney will comply with the following:
All passengers are to sign in with a QR Code prior to boarding.
Cleaning
We've increased the frequency of disinfecting surfaces and high traffic areas between each cruise.
Hand sanitizer will be available to all of our guests.
Personal Sanitation
Our Boat will be equipped with Touch Free Hand Sanitising Station.
Social Distancing
We ask guests to please  to keep a safe 4m distance during all points of the cruise wherever possible.
Wellness Checks
Employees receive daily wellness checks to ensure they are healthy and symptom-free.
If you or anyone in your group is experiencing symptoms, we will work directly with you to cancel or reschedule your cruise.
Temperature Checks
In the interest of passengers well being, we will be administering temperature checks on all persons before boarding the boat.
The check will be done with an electronic instrument. If the bodies temperature reading is above 37.5 Degrees Celsius, you will not be allowed to board the boat.