Bucks Afternoon Cruise Sydney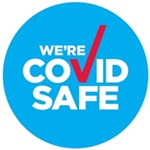 Planning a Bucks afternoon cruise Sydney means a lot more than just hiring a stripper and buying some booze these days. Bucks parties have evolved tremendously and today there is a whole world of possibilities for those planning out and attending one. If you want to make sure that your mate has a great one, you may want to consider a bucks day afternoon stripper cruise. This three hour cruise will take you and your mates around Sydney Harbour and give you everything that a great Bucks party should have and then some. It's the perfect way to plan out a Bucks party without having to spend hours planning each individual aspect of the event.
"We Are A Covid Safe Business"
Package – $155.00 Per Head
Bucks Afternoon Cruise Packages Includes:
3  Hour Party Cruise on The Harbour

Great Views Of Sydney Harbour
A Cruise Director
Quality Party Boat
A Full Drink Package Including
Spirits – Vodka, Scotch, Bourbon, Rum and Baccardi
Beers – A Selection of Bottled Beers & Cascade Light
Red and White Wines, Water and Soft Drinks
The Best Menu on The Harbour – View Menu
A Choice of Fresh Salads and Bread Rolls
Sexy Lingerie Waitresses To Serve Drinks and Food
Our Waitresses do "Private Shows"
So Bring Some Extra Cash – $$$
A Sexy R Rated Strip Show For Your Group
Special attention For Your Buck
Security And Music
Saturdays From – 4.30pm – 7.30pm – Minimum Of 10 People
Sunday Till Friday – 4.30pm – 7.30pm – Minimum Of 20 People
Package is based on a minimum of 10 people – (View Booking Terms)
Departs: King Street Wharf – (View Maps)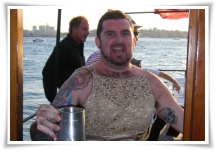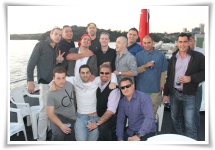 click here! to make a online equiry   
A Bucks day afternoon cruise includes plenty to rave about. For starters, the sound system on the boat and the house DJ will make sure that you don't have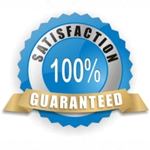 to worry about running out of tunes. Cruises depart from either Star City or Campbell's Cove and take you around the harbour in style. The party boat is two levels high and features a pair of open decks – there's plenty of room for everyone in your party to spread out and enjoy themselves during their time on the boat.
Last but not least, your drinks and food will be served by sexy lingerie waitresses. That means that you'll get catered by the most gorgeous women in Sydney on your own private cruise. And there's also an R rated strip show designed to give a little extra attention to the Bucks in question. In short, you get all the basics of a great bucks party – drinks, food, and beautiful women along with a three hour cruise on a great boat in one of the most famous harbours on the planet. There's no better booze cruise option out there!
Of course, a Bucks day Sydney isn't a party without refreshments and on a Bucks day afternoon cruise you'll be able to access unlimited soft drinks, wine, beer, and even spirits. That means that you'll likely save big just on alcohol and drink costs by cruising with us. And our Aussie BBQ sausages and spring rolls, roast chicken, a choice of fresh salads and bread rolls offers all you can eat. Other options include beef lasagne, prawns, chicken, salads, bread rolls, and more. You'll get plenty to eat and all you care to drink while you party on the harbour, and best of all you won't have to worry about any issues thanks to the included security team.