Clay Target Laser Shooting Cruise Sydney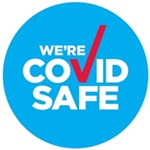 Sydney harbour is one of the most beautiful bodies of water in the world. People locally and from all over the world head to Sydney Harbour when they are looking for a great place to see beautiful sites and have a great time on the water. A unique and special way for people to spend time on the water and participate in an activity they truly enjoy is with a laser clay target shooting cruise Sydney harbour. Clay shooters from all over board these Sydney cruises for over three hours of laser clay shooting and a barbecue lunch.
"We Are A Covid Safe Business"
Package – $189.00 Per Head
Bucks Clay Shooting Cruise Packages Includes:
3 Hour Experience on Sydney Harbour
Quality Boat
A Cruise Director
Participate in the Laser Clay Shooting Contest
Points Are Awarded If The Target Is Hit
Results Electronically Calculated Displayed On Scoreboard
A Full Drink Package Including
Spirits – Vodka, Scotch, Bourbon, Rum and Baccardi
Beers – A Selection of Bottled Beers & Cascade Light
Red and White Wines, Water and Soft Drinks
The Best Menu on The Harbour – View Menu
A Choice of Fresh Salads and Bread Rolls
Sexy Lingerie Waitresses To Serve Drinks and Food
Our Waitresses do "Private Shows"
So Bring Some Extra Cash – $$$
R Rated Strip Show – $300.00 Cash on the Day
Security And Music
7 Days A Week From – 10.30am – 1.30pm
7 Days A Week From – 1.30pm – 4.30pm
7 Days A Week From – 4.30pm – 7.30pm
7 Days A Week From – 7.30pm – 10.30pm
Package is based on a minimum of 25 people – (View Booking Terms)
Departs: King Street Wharf – (View Maps)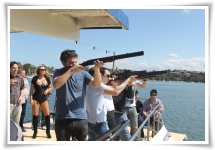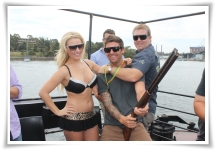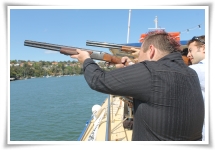 click here! to make a online equiry   
Clay target shooters enjoy their activity and those of them who venture out to laser clay target shooting cruises Sydney harbour enjoy a new way to enjoy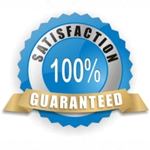 clay target shooting. Every Saturday, a laser clay shooting competition takes place. Each gun is equipped with a micro chip that allows hits, misses and a score to be kept track of. Each clay target is launched into the air at different speeds and different angles. Each participant gets to take two shots at each target launched. The gun will register if the clay was hit and will keep track of the score.
During a clay target shooting competition on our party boat, there will be many participants. The competition is a healthy and enjoyable competition and many participants come out week after week. Friendships are formed to keep the competition alive and going strong. An added bonus to the competition is that a barbecue lunch buffet is available during the entire cruise. Australia's finest barbecue foods along with a large amount of seafood are available to all paying cruisers. Food can be consumed during the entire clay shooting competition and there is enough food that no one goes hungry.
A laser clay target shooting cruise Sydney harbour is a great way for gamers and clay shooters alike to spend a Saturday afternoon. People of all ages can enjoy a safe and exciting game of target shooting and have a great day on the water taking in all of the beautiful views of Sydney harbour. Sydney harbour is one of the most beautiful bodies of water on Earth and there are different cruises that set out to enjoy the water. A clay target shooting cruise offers a unique way to be out on the water, enjoying the views, target shooting and enjoying a wonderful spread of barbecue foods and different kinds of seafood.